Thai Vegetable and Shrimp Noodle Jars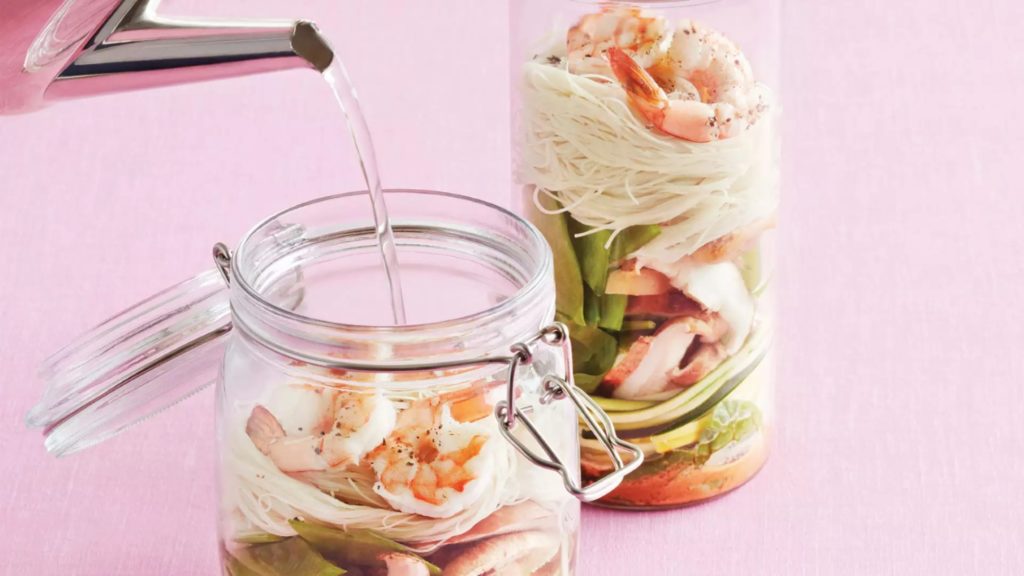 Thai Vegetable and Shrimp Noodle Jars
You've probably reached for those instant noodle packs or even the super convenient noodles that come in a handy Styrofoam cup. After all, they're quick and easy, and the convenience of having a hot meal by doing nothing more than adding hot water is definitely tempting.
Of course, we all know those instant noodles aren't healthy. They are loaded with sodium and chemicals that you'd be better off avoiding. Fortunately, you can make your own instant Thai Vegetable and Shrimp Noodle Jars that are every bit as convenient, but far more healthy and delicious. Fill the jars with veggies, shrimp, and noodles, and you have an on-the-go lunch that needs nothing more than hot water.
When you're trying to lose weight, planning ahead is important. While salads and sandwiches are fine for a quick lunch, sometimes you want something a bit different. With this quick and easy vegetable and shrimp noodle jar, you'll have plenty of flavor, without going overboard on the calories. Each jar is just 356 calories!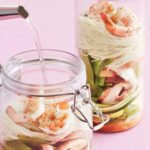 Thai Vegetable and Shrimp Noodle Jars
The wonderful flavors of Thai cooking in an instant noodle jar you can take with you anywhere. Enjoy a hot lunch without overindulging on calories. Delicious and satisfying.
Ingredients
1

cup

canned coconut milk, full fat

4

tsp

soy sauce, reduced sodium

2

tsp

fresh ginger, peeled and grated

2

tsp

Thai red curry paste

1

tsp

chili garlic sauce

1

all natural bouillon cube, cut in half

8

snow peas, trimmed and cut into 1-inch lengths

2

shiitake mushrooms, stemmed and thinly sliced

1

small zucchini, cut into matchsticks

1/2

cup

lightly packed baby spinach

1-1/2

ounces

brown rice vermicelli noodles, cooked

4

ounces

4 frozen, peeled, deveined, and cooked large shrimp
Instructions
In a small bowl, whisk together the coconut milk, soy sauce, grated ginger, red curry paste, and chili garlic sauce. Divide the mixture between two 1 pint Mason jars with tight fitting lids. Add one half of the bouillon cube to each jar.




In each jar, layer half of the snow peas, shiitake mushrooms, zucchini, spinach, noodles, and the frozen cooked shrimp. Make sure you have the vegetables on the bottom of the jar. Close the lids and refrigerate until the shrimp thaw; approximately 8 - 12 hours.




When you're ready to eat, pour 1-1/2 cups of boiling water into each jar. Close the lid and let sit about 8 minutes, until the vegetables are softened. Shake the jar gently in order to combine.



Note:  You can make these shrimp noodle jars at night. The shrimp will thaw overnight, and your noodle jar will be ready to take to work in the morning. A great plan ahead lunch that will keep your weight loss efforts on track.
Courtesy of Cleaneatingmag.
Please follow and like us: