Thai Quinoa Salad with Lime Vinaigrette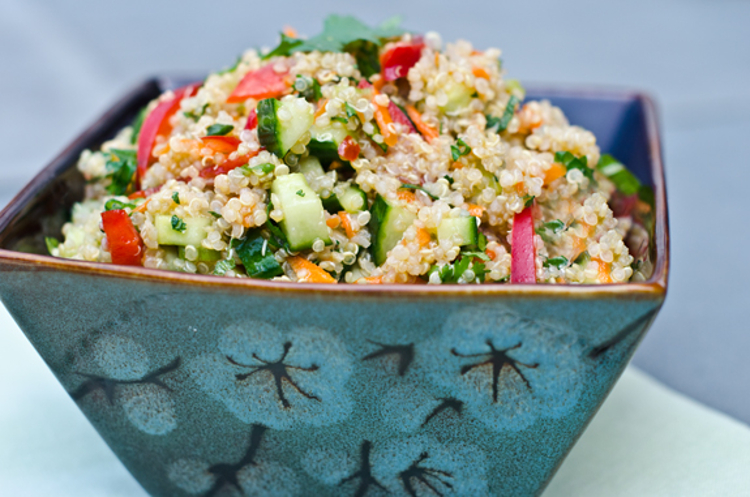 Thai Quinoa Salad
This is a satisfying salad that's perfect for a light lunch or dinner. The fresh ingredients blend perfectly with the bright flavors of the Thai lime vinaigrette. Quinoa is a grain that has been steadily gaining popularity in recent years, especially given its ability to help with weight loss. It is a superfood with a high protein content as well as antioxidants that can provide a boost for your metabolism in addition to fat burning benefits. Of course, this tasty Thai Quinoa Salad is also packed with nutrient rich veggies, such as red bell pepper, carrot, and English cucumber.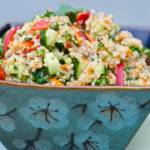 Thai Quinoa Salad with Lime Vinaigrette
A delicious, satisfying, and healthy salad that's perfect when you're trying to lose weight. On top of it's great flavor and health benefits, this Thai Quinoa Salad is also loaded with fat fighting antioxidants for faster weight loss. It's a perfect win when you're trying to eat healthy or shed some pounds.
Ingredients
For the Salad:
1

cup

quinoa, rinsed

1/2

tsp

kosher salt

1

red bell pepper, cut into strips

1

small

carrot, peeled and grated

1

English cucumber, seeded and diced

2

green onions, finely sliced (both white and green parts)

1/4

cup

freshly cilantro, chopped

2

Tbsp

fresh mint, chopped
For the Vinaigrette:
1/4

cup

freshly squeezed lime juice (about 3-4 limes)

2-1/2

tsps

fish sauce

1-1/2

tsp

canola oil

2

Tbsp

sugar

1/4

tsp

crushed red pepper flakes
Instructions
Make the Quinoa:
Place 1-2/3 cups water in a medium saucepan, add the rinsed quinoa and salt. Bring to a boil. Reduce heat to low, cover and cook for about 15 minutes or until all of the water is absorbed and the quinoa done. You'll know it is done when the the quinoa grains look like they've popped open. (If the water is absorbed and the quinoa doesn't look done, add 1 to 2 additional tablespoons of water and continue cooking until it is absorbed and the grains have opened.) When the quinoa is done, place it in a bowl and let it cool in the refrigerator.

Make the Vinaigrette:
While the quinoa is cooking, make the vinaigrette. In a small bowl, combine the fresh lime juice, fish sauce, canola oil, sugar, and crushed red pepper flakes. Whisk until the sugar is completely dissolved.
Make the Salad:
In a large bowl, add the cooled quinoa, red bell pepper slices, shredded carrot, diced cucumber, scallions, cilantro, mint, and vinaigrette. Toss well to combine everything; taste for seasoning, adding a bit more salt, sugar and/or lime juice as needed. Chill in the refrigerator until ready to serve.
Recipe Notes
This Thai Quinoa Salad will keep well in the refrigerator for several days.
If you're serving the salad as a light lunch or dinner, plan on getting 2 servings from this recipe; however, you can also serve it as a side salad, which will provide 4 servings.
The flavors of this salad work perfectly with fish, seafood or even chicken. You can easily make a more substantial meal by adding some protein, if you choose.
Please follow and like us: