Turmeric Dip with Beet Chips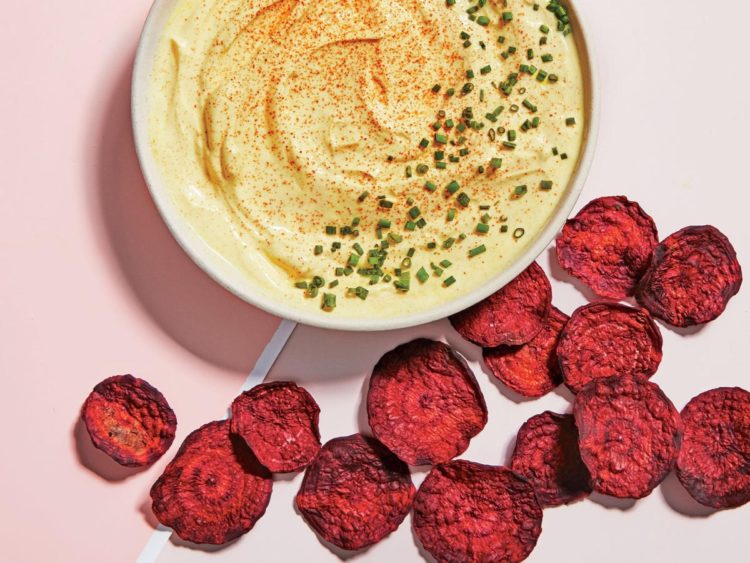 Beet Chips and Turmeric Dip
When you're trying to lose weight, social gatherings can often be challenging. Sure, it's great to get together with friends or family, but those inevitable snacks and high-calorie treats can be hard to resist. When you want to enjoy social events without sabotaging your weight loss goals, a little planning can definitely help. This delicious Turmeric Dip with Beet Chips is not only tasty, but it can also help ensure that you keep on track with your diet.
Of course, it's not only great for a party or other gathering, it's also an excellent snack option to keep on hand for those times when you just need a little nibble. The Beet Chips are amazing, but you could also make dried chips from carrots or other veggies, or simply use the Turmeric Dip for dipping some fresh veggies, such as bell pepper strips, broccoli florets, or baby carrots.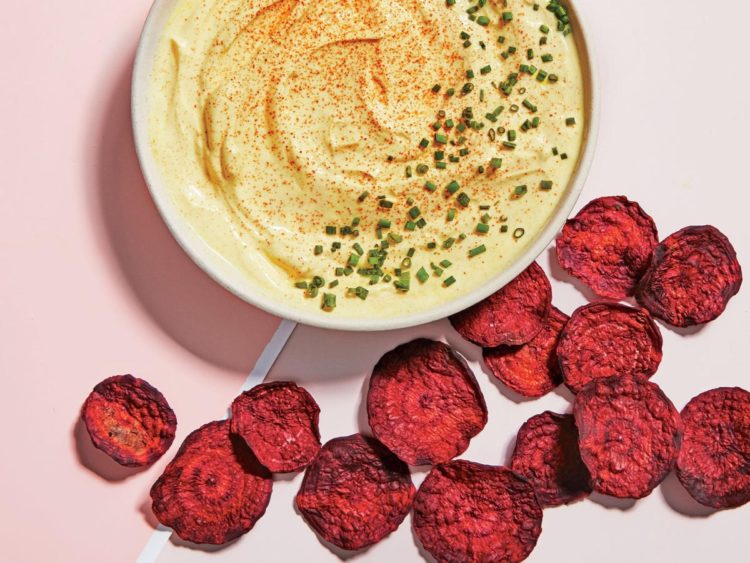 Turmeric Dip with Beet Chips
This healthy dip and chips make a great swap to those high-calorie, high-fat alternatives. It's perfect for entertaining or as a healthy snack to keep on hand for those times when you want a little nibble.
Ingredients
Beet Chips
3

medium beets

1-1/2

tsp

olive oil
Turmeric Dip
1

cup

plain Greek yogurt, whole milk

2

Tbsp

chopped fresh chives

1

Tbsp

extra virgin olive oil

1-1/2

tsp

fresh lemon juice

1-1/2

tsp

ground turmeric

1

tsp

onion powder

1/2

tsp

Kosher salt

pinch

cayenne powder
Instructions
Preheat Oven to 350° F. Place racks in the upper and lower third of the oven.
Peel the beets, then use a mandoline to slice the beets about 1/16" thick. Place the sliced beets in a large bowl and add the olive oil; toss gently to coat.

Arrange the beets in a single layer on 2 rimmed baking sheets. Cover each baking sheet with another baking sheet. Place the covered pans in the oven and bake until the beet slices begin to dry out on the edges; this will take about 20 minutes. Uncover and rotate the pans. Bake an additional 10 to 20 minutes; remove the chips when the color gets lighter. Place the chips on a wire rack. Don't worry, they'll crisp up as they cool.
Make the Turmeric Dip
In a medium size bowl, thoroughly combine all of the dip ingredients. Chill for at least 1 hour to let the flavors blend together. Garnish with some chopped fresh chives and a sprinkle of cayenne, if desired. Serve with beet chips.
Adapted from CookingLight.
Please follow and like us: