Creamsicle Protein Smoothie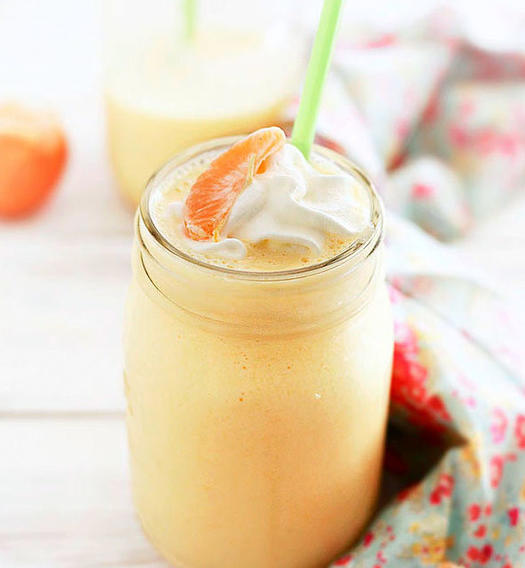 Creamsicle Protein Smoothie
If you haven't taken the plunge and jumped into the smoothie craze, you're definitely missing out. There are smoothies for detox, energy, protein, breakfast, weight loss as well as smoothies that are just plain delicious, and are deserving of a special spot on your healthy list of treats. Fortunately, this yummy Creamsicle Protein Smoothie is amazingly delicious, yet still diet friendly. Enjoy it's creamy sweet goodness after a workout or when you need a little boost of energy in your day. It's also very kid friendly!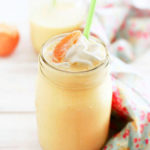 Creamsicle Protein Smoothie
A delicious blend of creamy vanilla and yummy orange. Just like a Creamsicle, but definitely much healthier.
Ingredients
2

Mandarin oranges or seedless tangerines

- If you have trouble finding Mandarin oranges, you can use those little lunch size cups found in most grocery stores

1

frozen banana

- peel and slice before freezing

1/3

cup

plain Greek yogurt

honey or Stevia, to taste

1/2

serving

vanilla protein powder, optional

4 - 6

ice cubes
Instructions
Place all of the ingredients (except the honey or

Stevia

) into a blender jar. Blend until the mixture is smooth, and the vanilla protein powder is blended in. If the smoothie is too thick, add a bit of water, so you can blend it to a smooth consistency. If you like your smoothie with a frozen texture, just add more ice. It's a great refresher on a hot day or after a workout. Sit back and enjoy!
If you want to make your Creamsicle Protein Smoothie a green smoothie, try adding a handful of spinach or kale. You'll still have the wonderful fruity flavor, but you'll add even more beneficial nutrients.
Customize Your Smoothies
Smoothies are an easy way to pack a lot of flavor and essential nutrients into a single glass. You can switch up your smoothies by changing the fruit, adding protein powder, using coconut syrup for sweetener, or even swapping the Greek yogurt for almond milk. The important thing is to watch the ingredients, so you aren't packing in calories instead of vitamins and minerals.
Please follow and like us: