Strawberry Breakfast Smoothie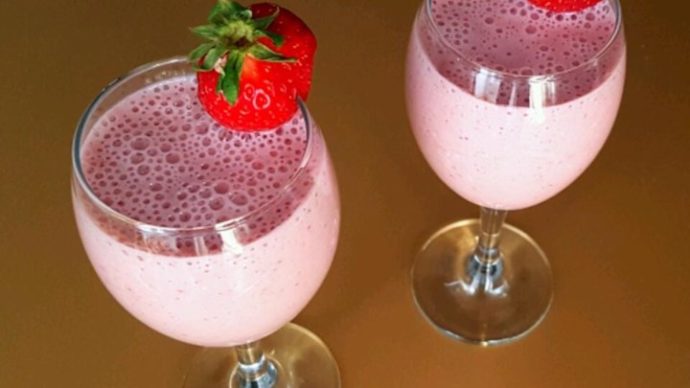 Delicious Strawberry Breakfast Smoothie
This yummy strawberry breakfast smoothie is as satisfying as it is delicious. It's made with soy milk, strawberries, banana, and rolled oats. It's packed with flavor as well as dietary fiber and nutrients. When you want something that will be able to carry you through your morning, this delicious breakfast smoothie is definitely a tasty solution.
Strawberry Breakfast Smoothie
A satisfying and delicious breakfast smoothie that will take you through your morning.
Ingredients
1

cup

soy milk

1/2

cup

rolled oats

1

banana

cut into chunks

14

strawberries, frozen

1/2

tsp

vanilla extract

1-1/2

tsp

sugar
Instructions
Add all of the ingredients to a blender jar. Blend until fairly smooth. Poor into 2 glasses, and garnish if desired. Enjoy!
Get Your Morning Started Right
A morning smoothie is a great way to start the day. You'll get the boost you need to get you going, and the rolled oats will provide the long-lasting energy that will help you through the morning. Additionally, whole grain oats are not only heart healthy, but they also help regulate your blood sugar. Of course, with the added fiber, you'll also feel satiated, which can certainly help you resist the urge to grab a donut or other high-calorie snack.
Tips:
If you want to cut back on sugar, you can either eliminate it altogether or you can use another type of sweetener. Choose Stevia or honey for a healthier morning smoothie.
This smoothie calls for frozen strawberries, but you can easily substitute peaches, raspberries or a mixture of your favorite frozen fruits.
If you want to make your morning smoothie making process as quick and easy as possible, try freezing some banana chunks. Simply peel a few bananas, cut them into 4 equal chunks, and place on a sheet pan. Freeze for several hours. When the banana chunks are frozen, place them in a zip top bag. When it's time to make your smoothie, just grab 4 chunks of bananas with your other frozen fruit and you're ready to go. Of course, if you really want to make your smoothie making as easy as possible, make up several bags of fruit. Add 4 banana chunks and 14 frozen strawberries into each bag. Store in the freezer, and you'll be ready to put your breakfast smoothie together in a matter of minutes!
Please follow and like us: