Green Smoothie Bowl for Weight Loss
A Delicious Green Smoothie Bowl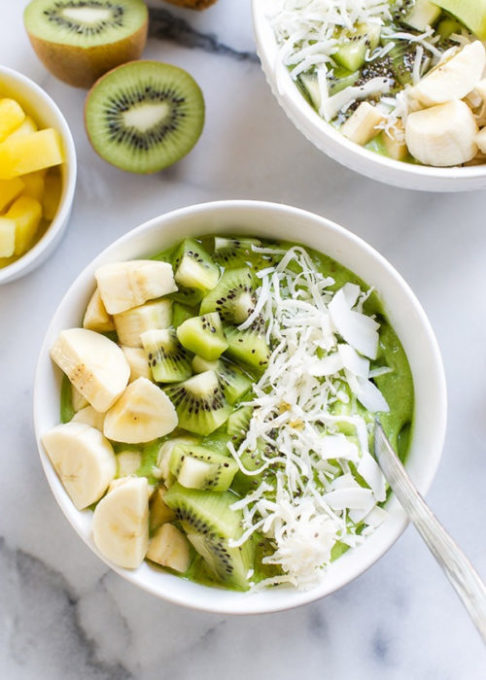 Green Smoothie Bowl for Weight Loss
A smoothie bowl is a great way to increase your intake of fruits and vegetables, but be careful not to go overboard. A smoothie bowl that is loaded down with a variety of fruits and additional toppings can quickly backfire on your weight loss efforts. You don't need a couple of cups of berries and two whole bananas for your snack or breakfast. Keep your smoothie bowl healthy, and use a little common sense, and you'll have a delicious addition to your weight loss plan.
Green Smoothie Bowl
Grab a spoon and enjoy this delicious green smoothie bowl for breakfast, lunch or even after your workout!
Ingredients
Green Smoothie Bowl
1/4

cup

kefir

1/2

banana

1

cup

fresh baby spinach

1/4

cup

frozen mango

1/4

cup

frozen pineapple chunks
Toppings:
sliced banana

sliced kiwi

shredded coconut

chia seeds

honey
Instructions
Place the kefir, banana, baby spinach leaves, mango, and pineapple chunks into a blender jar; in the order listed. Blend on low until the smoothie mixture is thick and creamy. Stop blender and scrap down sides, if necessary in order to get all ingredients to combine into a smooth consistency.

Place the smoothie mixture in a bowl and place in the freezer while you're preparing the toppings.




Serve with sliced banana, sliced kiwi, shredded coconut, a sprinkling of chia seeds, and a drizzle of honey. Enjoy your green smoothie bowl immediately.
Making a Green Smoothie Bowl
Choose an organic plain kefir, and limit toppings. Keep in mind that even healthy ingredients have calories. If you're making a green smoothie bowl for weight loss, pay close attention to toppings. A little honey is fine, a few slices of banana and kiwi are plenty, and it doesn't take much coconut to add a touch of sweetness.
Not familiar with kefir?
Kefir is a delicious cultured and fermented beverage. It tastes a lot like yogurt, but with a slightly thinner consistency. It is made by using a kefir starter that contains milk proteins, yeasts, and healthy bacteria. The tart, creamy flavor is delicious on its own or used in a smoothie or smoothie bowl. Kefir is also loaded with beneficial probiotics for exceptional health benefits.
Typically, kefir is made from cow's milk; however, non-dairy alternatives are also available. It can be made with goat's milk, rice milk, coconut milk, or even coconut water. Additionally, because kefir is fermented, it usually doesn't cause a problem for people who are lactose intolerant.
You can find kefir in most supermarkets and health food stores.
Please follow and like us: