Quinoa Bowl for Breakfast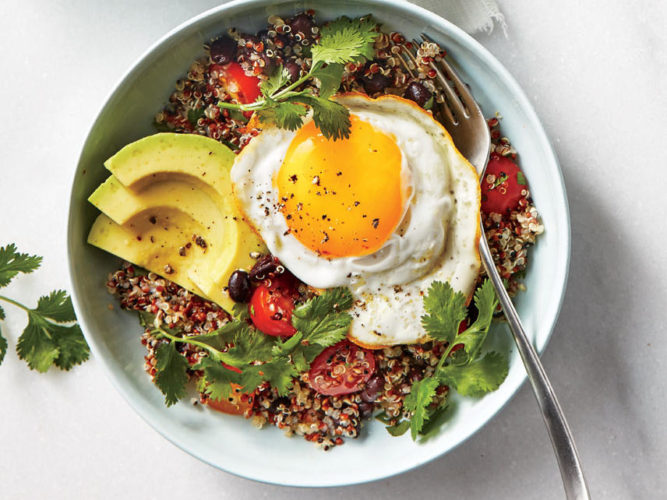 Delicious Breakfast Quinoa Bowl
If you're trying to lose weight, finding healthy meals is definitely important. However, sometimes, finding a nutritious option for breakfast can be challenging. Sure, you can have some oatmeal or a whole grain muffin, but eating the same thing every day can get boring.
You want to find a substantial breakfast that will hold you over until lunch while still offering flavor, variety, and plenty of nutrition. This Breakfast Quinoa Bowl is the perfect solution!
This delicious breakfast is quick and easy to make, and it's packed with nutrients and anti-inflammatory foods. If you want to get even more anti-inflammatory benefits, have a grapefruit or orange with your quinoa bowl. This recipe uses precooked quinoa, so you can use up some leftovers or simply purchase a precooked package of quinoa at your grocery store.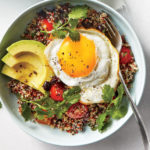 Breakfast Quinoa Bowl
A delicious breakfast bowl packed with antioxidants. Whether you're looking for a quick breakfast for your weight loss diet, or you want an easy anti-inflammatory breakfast option, this Quinoa Bowl is the perfect solution.
Ingredients
2

teaspoons

extra-virgin olive oil, divided

1

teaspoon

red wine vinegar

1/4

teaspoon

Kosher salt, divided

1

cup

cooked, tricolor quinoa, hot

1

cup

grape or cherry tomatoes, halved

1/2

cup

canned unsalted black beans, drained, rinsed, and warmed

2

Tablespoons

chopped, fresh cilantro + extra for garnish

2

large

eggs, preferably omega-3 eggs*

1/2

ripe avocado, sliced
Instructions
Make the Dressing:

Whisk together 1-1/2 tsp of olive oil, the vinegar, and a dash of Kosher salt.


Combine the cooked, hot quinoa, cherry tomatoes, black beans, chopped cilantro, and 1/8 tsp of Kosher salt; toss together gently. Divide the quinoa mixture evenly between two bowls.


Heat a skillet over medium heat. Put the remaining 1/2 teaspoon of olive oil in the pan, and swirl to coat. Crack the eggs into the pan, 1 at a time. Cover the pan, and cook until the whites are just set, but the yolk is still runny; about 2 or 3 minutes.


Drizzle the dressing evenly over the quinoa mixture in both bowls. Top each bowl with a cooked egg and half of the sliced avocado. Sprinkle with the remaining dash of Kosher salt. If desired, garnish with the remaining cilantro.

*If you want to kick up the omega-3s even more, consider using omega-3 eggs which are now easy to find in many supermarkets. The omega-3 eggs come from hens that are fed a diet that is rich in omega-3s, typically flaxseed.
Recipe courtesy of CookingLight.
Please follow and like us: