Raspberry and Matcha Chia Pudding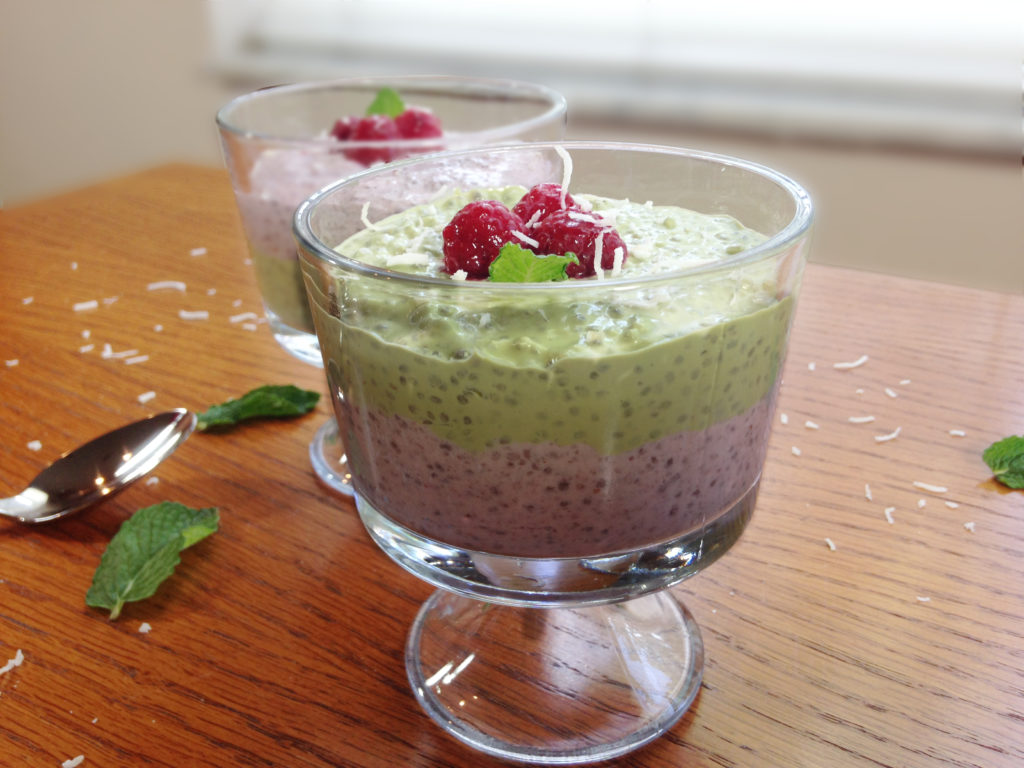 Delicious Raspberry Matcha Chia Pudding
Whether you're looking for a great food for your weight loss diet, or you're just looking for a healthy breakfast idea, this amazing Raspberry and Matcha Chia Pudding will definitely be a hit. Of course it's delicious, but it's also loaded with vitamins, minerals, and nutrients that will keep your metabolism in high gear while providing you with beneficial antioxidants, and a load of wonderful health benefits. In fact, raspberries, matcha, and chia seeds are all superfoods. Imagine packing 3 great superfoods into one little dish of scrumptious flavor.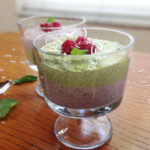 Raspberry and Matcha Chia Pudding
A delicious chia pudding that's great for an afternoon snack or a make-ahead breakfast; even the kids will love it!
Ingredients
1

cup

coconut milk

1

cup

Greek yogurt, plain

2

Tablespoons

pure maple syrup

1/2

cup

raspberries, fresh or frozen

2

teaspoons

matcha powder

1/4

cup

chia seeds

mint leaves, for garnish

- optional

fresh raspberries, for garnish

- optional

shredded coconut, organic and unsweetened

- optional
Instructions
In a blender, combine 1/2 cup of the coconut milk with 1/2 cup Greek yogurt, 1 tablespoon pure maple syrup, and the raspberries. Blend until smooth. Pour into a small bowl. Stir in half of the chia seeds (2 Tbsp).

In a clean blender container, combine the remaining 1/2 cup coconut milk with the other 1/2 cup of Greek yogurt, 1 tablespoon pure maple syrup, and the matcha powder. Blend until combined. Pour into a small bowl, then stir in the remaining chia seeds.

Cover both bowls and refrigerate several hours or overnight. To serve, gently layer the raspberry chia pudding and the matcha chia pudding in attractive serving dishes. If desired, top with mint leaves, fresh raspberries, and coconut.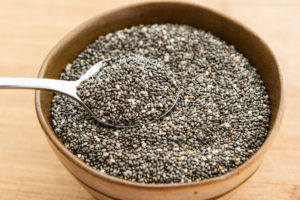 Why You Need to Add Chia Seeds to Your Diet
Chia seeds are a good source of Omega-3 fatty acids as well as protein. Of course, as a superfood, they are a nutritional powerhouse. Here's a quick look at how much nutrition (per gram), this little seed can add to your diet:
15 times more magnesium than broccoli
8 times more omega-3 fatty acids than salmon
6 times more calcium than milk
6 times more protein than kidney beans
4 times more phosphorus than whole milk
3 times more iron than spinach
2 times more fiber than bran flakes
Of course, a great way to get more chia seeds in your diet is to enjoy this delicious Raspberry and Matcha Chia Pudding!
Please follow and like us: